$fich = basename($_SERVER['REQUEST_URI']); $fich2 = explode("/",dirname($_SERVER['REQUEST_URI'])); if (eregi("resource_center/",$_SERVER['REQUEST_URI'])){ $seccion = "resource_center"; }elseif (eregi("links/",$_SERVER['REQUEST_URI'])){ $seccion = "links"; }elseif (eregi("facts/index.html",$_SERVER['REQUEST_URI'])){ $seccion = "facts"; }elseif (eregi("newsroom/index.html",$_SERVER['REQUEST_URI'])){ $seccion = "newsroom_ind"; }elseif (eregi("newsroom/archive/",$_SERVER['REQUEST_URI'])){ $seccion = "newsroom_not"; }elseif (eregi("newsroom/archive_1.html",$_SERVER['REQUEST_URI'])){ $seccion = "newsroom_arc"; }elseif (eregi("newsroom/newsletter/index.html",$_SERVER['REQUEST_URI'])){ $seccion = "newsroom_newsl"; }elseif (eregi("/actualidad/boletines/",$_SERVER['REQUEST_URI'])){ $seccion = "newsroom_newsl"; }elseif (eregi("agenda/index.html",$_SERVER['REQUEST_URI'])){ $seccion = "agenda_ind"; }elseif (eregi("centro_recursos.html",$_SERVER['REQUEST_URI'])){ $seccion = "centrorecursos"; }elseif (eregi("agenda/archive/",$_SERVER['REQUEST_URI'])){ $seccion = "agenda_arc"; }elseif (eregi("about/index.html",$_SERVER['REQUEST_URI'])){ $seccion = "29716"; }elseif (eregi("about/history.html",$_SERVER['REQUEST_URI'])){ $seccion = "39024"; }elseif (eregi("about/Management.html",$_SERVER['REQUEST_URI'])){ $seccion = "36535"; }elseif (eregi("about/technical_secretariat.html",$_SERVER['REQUEST_URI'])){ $seccion = "48075"; }elseif (eregi("facts/bg/",$_SERVER['REQUEST_URI'])){ $seccion = "29676"; }elseif (eregi("facts/cz/",$_SERVER['REQUEST_URI'])){ $seccion = "29677"; }elseif (eregi("facts/fi/",$_SERVER['REQUEST_URI'])){ $seccion = "29683"; }elseif (eregi("facts/gr/",$_SERVER['REQUEST_URI'])){ $seccion = "29680"; }elseif (eregi("facts/hu/",$_SERVER['REQUEST_URI'])){ $seccion = "29673"; }elseif (eregi("facts/it/",$_SERVER['REQUEST_URI'])){ $seccion = "29681"; }elseif (eregi("facts/pl/",$_SERVER['REQUEST_URI'])){ $seccion = "29682"; }elseif (eregi("facts/pt/",$_SERVER['REQUEST_URI'])){ $seccion = "29679"; }elseif (eregi("facts/ro/",$_SERVER['REQUEST_URI'])){ $seccion = "30294"; }elseif (eregi("facts/sk/",$_SERVER['REQUEST_URI'])){ $seccion = "29678"; }elseif (eregi("facts/es/",$_SERVER['REQUEST_URI'])){ $seccion = "29377"; }elseif (eregi("facts/se/",$_SERVER['REQUEST_URI'])){ $seccion = "29684"; }elseif (eregi("facts/13/",$_SERVER['REQUEST_URI'])){ $seccion = "31023"; }elseif (eregi("euroma_plus/index.html",$_SERVER['REQUEST_URI'])){ $seccion = "112340"; }elseif (eregi("euroma_plus/Activities.html",$_SERVER['REQUEST_URI'])){ $seccion = "112342"; }elseif (eregi("euroma_plus/Ressources.html",$_SERVER['REQUEST_URI'])){ $seccion = "112345"; }else { $seccion = "neutra"; } ?>
European Network on Social Inclusion and Roma under the Structural Funds
Structural Funds: Investing in Roma
if ( $seccion == "resource_center" || $seccion == "neutra" ){ ?> } ?> if ( $seccion == "29716" || $seccion == "39024" || $seccion == "36535" || $seccion == "48075" ){ ?>
Outstanding New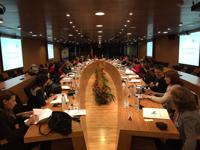 Hosted by the Spanish ESF Managing Authority, the meeting aimed to identify the main challenges for the implementation phase and review how transnational cooperation and the EURoma Network could help Member States to address them.
About EURoma
EURoma, a European Network made up of representatives of twelve Member States, is determined to promote the use of Structural Funds (SF) to enhance the effectiveness of policies targeting the Roma and to promote their social inclusion.
Current Member States: Bulgaria, the Czech Republic, Finland, Greece, Italy, Hungary, Poland, Portugal, Romania, Spain, Slovakia and Sweden.
About EURoma:
Resource Center:
Facts by Country:
Newsroom:
Events:
EURoma +: